If you've ever been to our market, you'd know that we always have oranges and grapefruit samples available to our customers.  We also make our very own fresh squeezed orange juice and grapefruit juice.  Well, as I walk back and forth from one end of the market to the other, doing God knows what, looking very busy while I'm at it too by the way, I often sneak a couple of pieces of fruit. While most of the time, the "sample girl" is cutting up some kind of oranges, its always exciting when I catch her cutting up grapefruits.
Now, it's not that I like grapefruit better than oranges, but there is just something about a sweet and tangy Ruby Red Grapefruit.  You just don't know what it's going to taste like.  I mean, you do, but until that segment of grapefruit hits your tongue, it's almost like a game of chance.  Will it be too sour, or will it be just right?  The Ruby Red Grapefruits at the market have been coming in beautifully. They have a bright yellow skin with dashes of pink.  Now, the inside its something to be proud of.  These babies are the most glorious shade of scarlet red ever.
We've been going to the library a lot lately, so I picked up One Bowl Baking by Yvonne Ruperti.  As you know, I look for easy, quick and tasty as my guidelines when selecting a recipe.  I've never made bar cookies or crusts from scratch before.  So, I tried her Ruby Red Grapefruit Bars recipe and it definitively delivered the sweetness and tartness of grapefruits I love so much.   Her instructions were easy to follow and this book will now be in my Amazon wish list.  Hint Hint.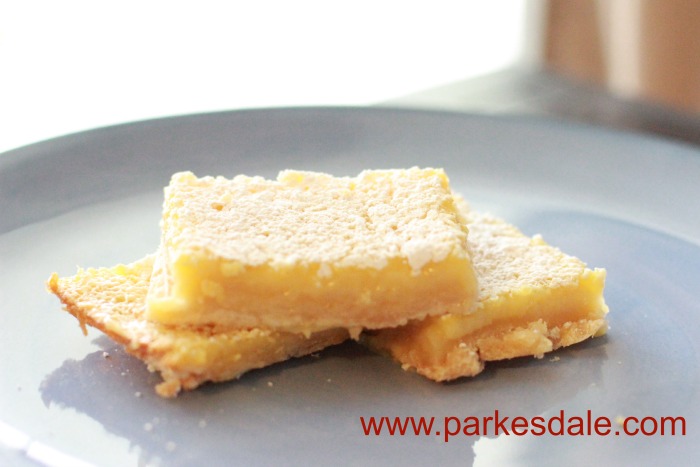 Ruby Red Grapefruit Bars, by Yvonne Ruperti
Crust:
1 1/3 cups all-purpose flour
1/4 cup granulated sugar
1/4 cup confectioner's sugar
pinch of salt
8 tablespoons unsalted butter, melted, plus more for greasing the pan
Filling:
1 1/2 cups granulated sugar
6 tbsp all-purpose flour
4 large eggs
1 large egg yolk
1 tbsp grated ruby red grapefruit
1 cup fresh ruby red grapefruit juice
2 tsp fresh lemon juice
2 tbsp confectioners's sugar, for dusting
Preheat the oven to 350F.  Butter a 9 in square baking pan.
To make the crust: In a large bowl, mix the flour, granulated sugar, confectioners' sugar, and salt.  Add the butter and stir until moistened.  Firmly press the mixture into the bottom and 1/2 inch up the sides of the pan.  Wipe out the bowl.  Bake until the crust is a deep golden brown, about 15 to 18 minutes.  Mine took about 20 minutes to get a deep golden brown color.  Remove the pan from the oven and reduce the oven temperature to 325F.  Let the crust cool briefly before filling.
To make the filling: Mix the sugar and flour, then whisk in the eggs and yolk until the mixture is smooth with no lumps.  Whisk in the zest, grapefruit juice, and lemon juice until combined.  Pour the filling into the crust and bake until the filling is just set, 25 to 35 minutes.  Set the pan on a wire rack to cool for about 30 minutes, then cill until completely set, 2 to 3 hours.  Dust with confectioners' sugar and cut into squares.
Best part of making this recipe was drinking the grapefruit juice. 😉