After strawberry shortcake season ends, we start our Summer Menu and this year is no different. Our fruit-filled milkshakes (peach, mango, pineapple, coconut, blackberry, blueberry and of course our famous strawberry) are back as well as our sundaes, popsicles and icepops. Another summer favorite treat, the Pineapple Dole Whip, is back with a new twist!
As you know, we've been serving pineapple Dole Whip on a cone or a cup at the market for a few years now. You can also get a pineapple Dole Whip float with Dole pineapple juice. This year, we've decided to serve the pineapple Dole whip in a fresh pineapple with freshly cut pineapple pieces and tajin.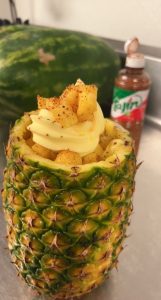 Pineapple Dole Whip is available now thru December 31st.