Our new shipment of garden plants has arrived! There are some true jewels in the shipment this week. The Guzmanias with their bright colors steal the show. But, the Echevarias beautiful shape can't be beat. Ligularias are perfect for those shade spots we struggle with. Lastly, but not least, the mixed foliage we received this week is spectacular. From green to pink to purple, the colors are fantastic.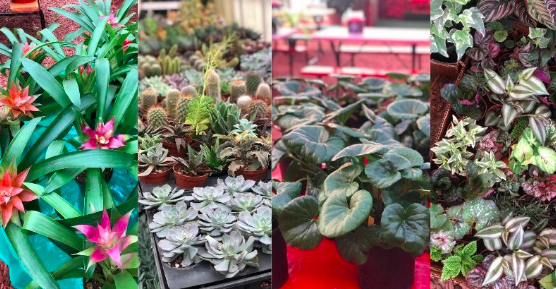 Guzmanias are tropical plants with colorful centers. They remind me of pineapple plants without the fruit. Guzmanias are a type of bromeliad which can be kept indoors. If you are planting them outside, make sure they get some shade as they can burn easily.
Echevaria or "Chicks and Hens" are one of my favorite succulents. They look like rose petals and I just love all of the different green shades. As any succulent, do not overwater! Try to limit watering to once a week or once every 10 days.
Ligularia and their gorgeous thick, round leaves are out of this world. They prefer shade to full shade locations and are known for expanding their territory. Ligularias will add color during late summer/fall with beautiful yellow flowers.
We received the cutest little foliage plants in 2″ pots. So many varieties and so many colors to choose from. Please come get them before they end up in my house!