We just received a shipment from Pinky Up® Tea! From their website: "Pinky Up® Tea is an adorable brand with the nicest loose leaf teas. Pinky Up® tea is about guilt-free indulgence – a way to enjoy great flavor with no calories and look great while doing it with our full line of on-trend accessories. The brand was created in 2016 in Seattle, WA by a group of women who love tea and want high quality ingredients but don't relate to the new age and stuffy images of other tea brands. From dessert flavored teas to irresistible cat mugs, we've got tea time nailed down."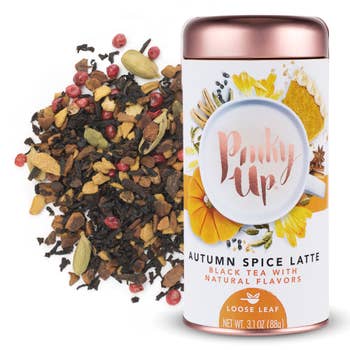 Autumn Spice Latte Black Tea by Pinky UP® Tea
Autumn Spice Latte by PinkyUp is the perfect alternative to seasonal high sugar beverages and baked goods. Steep the perfect cup of PinkyUp Autumn Spice Latte with Black Tea, Cinnamon, Ginger, Turmeric, Milk Chocolate Curls, Calendula Petals and Natural Flavoring.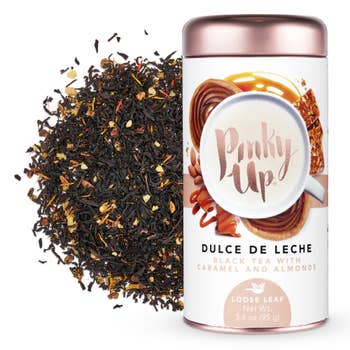 Dulce de Leche Black Tea by Pinky Up® Tea
Dulce de Leche is another favorite treat from PinkyUp Tea. If you like this decadent dessert, you will love the Carob added to this black tea. Carob gives it a malty richness and offers a boost of antioxidants. Bits of almond and brittle create a sweet, roasty finish like dark caramel.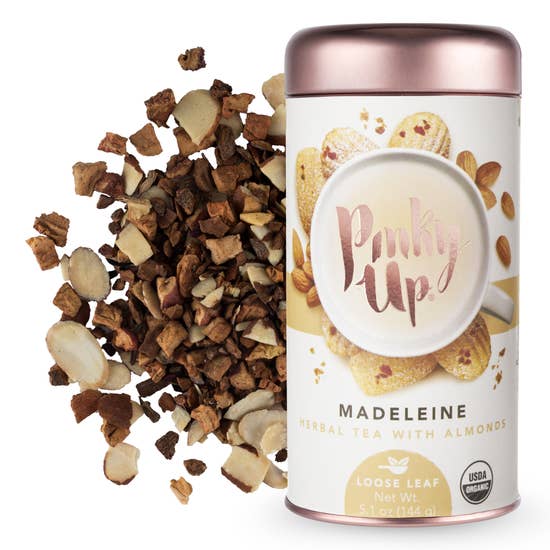 Madeleine Herbal Tea by Pinky Up® Tea
And finally, Madeleine herbal tea with Almonds from Pinky Up Tea. This is a refreshing dessert herbal tea made with organic almond, organic apple, organic cinnamon, organic hibiscus and natural flavoring.