Tuesdays at the Florida Strawberry Festival has been our family tradition ever since the girls were little. And yesterday was no different. After going to the festival for so many years, you can say we have our favorites. What is interesting to me is seeing and trying all the new offerings the festival brings in.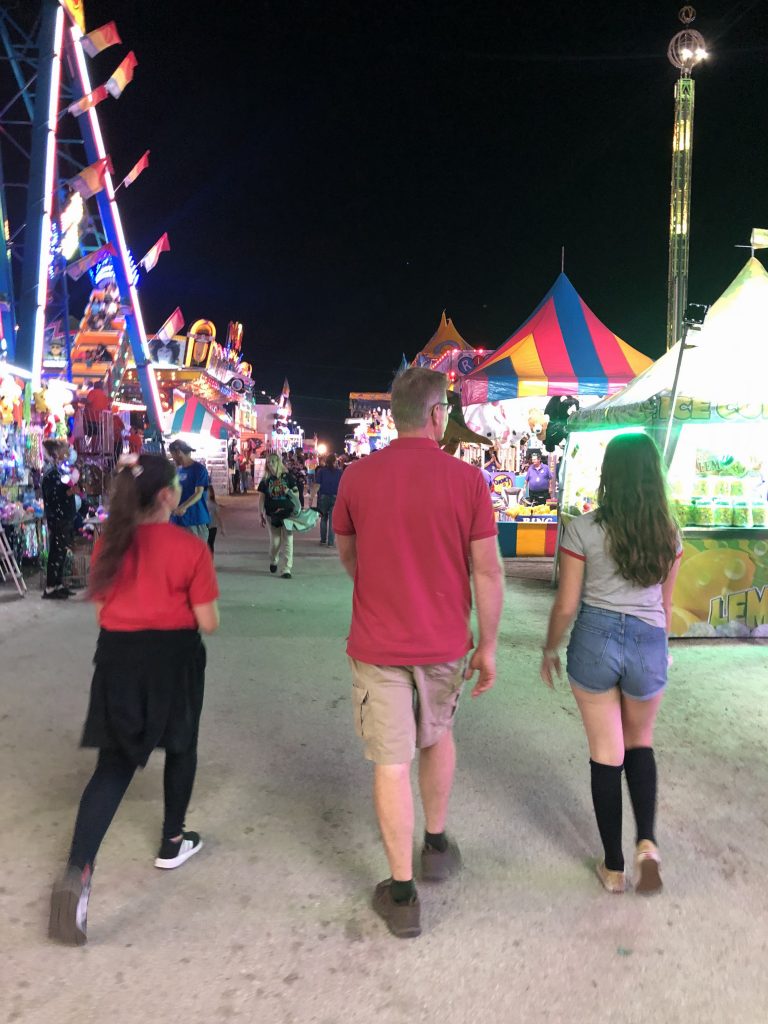 Quick Florida Strawberry Festival Info
The Florida Strawberry Festival, located in Plant City, is celebrating their 85th year anniversary.
Strawberry Festival runs through March 8th, 2020
Save $2 on admission tickets by purchasing your tickets at participating Publix before you get to the festival.
First The Food…
Although I do not have a picture of this delicious meal, please note we've already been to the Festival two times and bought them each time. We'll most likely, definitively, be going again later this week and I can guarantee more noodles will be purchased. They are wok fired soba noodles with tons of vegetables. Yeah, fresh vegetables: peppers, carrots, broccoli, yep. They are no joke. They offer a vegan option and a chicken teriyaki option. Both are $9 which is a great deal. Not your typical "fair food". You can find them near gate 6 before you get to the Midway.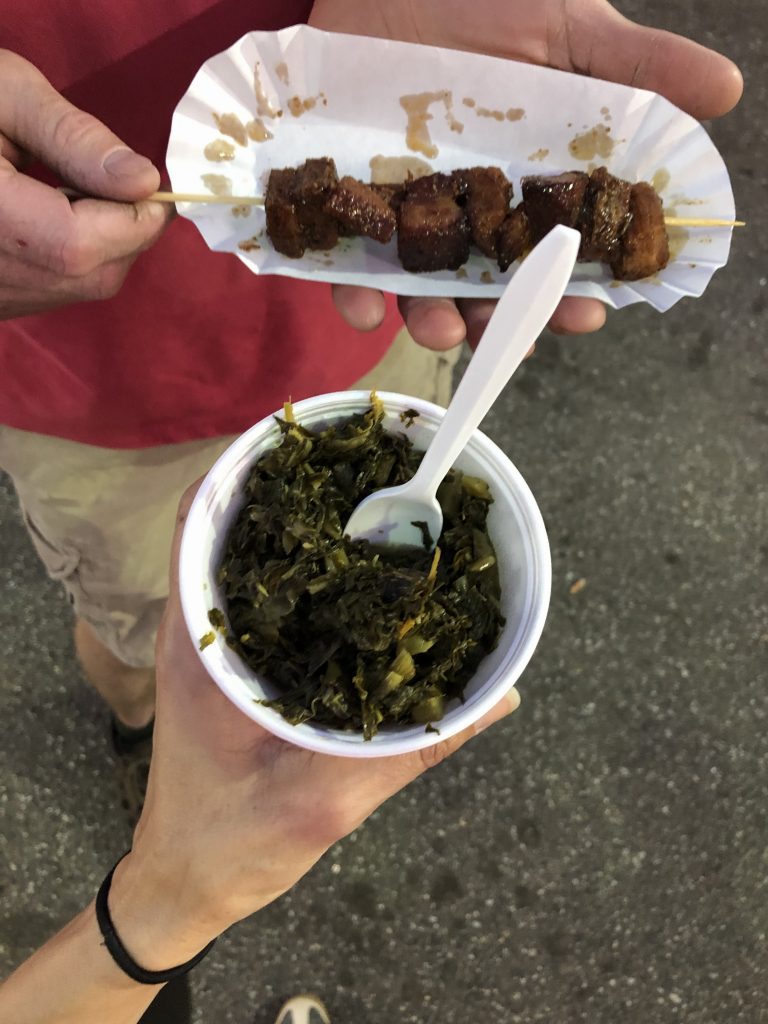 The Poke pork was made up of cubed, pork belly burnt ends with caramelized bbq sauce on a stick. I mean, you can't go wrong with this combination. It was so good, we came back to get a second one. The collard greens were equally delicious. I'm looking forward to seeing them at Downtown Plant City next time they are in town.
Then the snacks…
No visit to the Florida Strawberry Festival is complete without a Peachey's Baking Company donut. I mean, let's be real. These things are out of this world. They do offer a series of donut combinations, but we are "old school" and always get the og. You can find Peachey's Baking Co near gate 6 before you enter the midway area.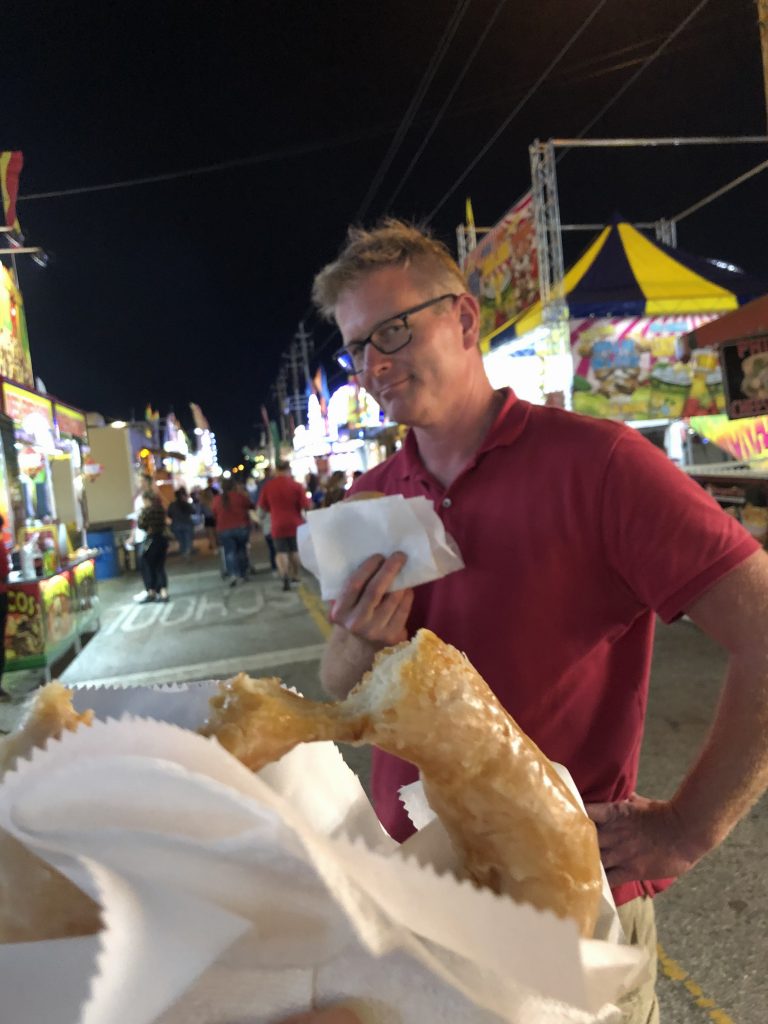 Mangonadas
Just a few steps from Peachey's Baking Co. we found this stand serving up Mangonadas. A mangonada can be served in two different ways: cubed up mangos with tajin and chamoy (Mexican seasonings) or a slushie with the tajin and chamoy. This was a first for us. While we've mangonadas before, we've never seen them at the Strawberry Festival. They were really good and will probably get another one next time we are there.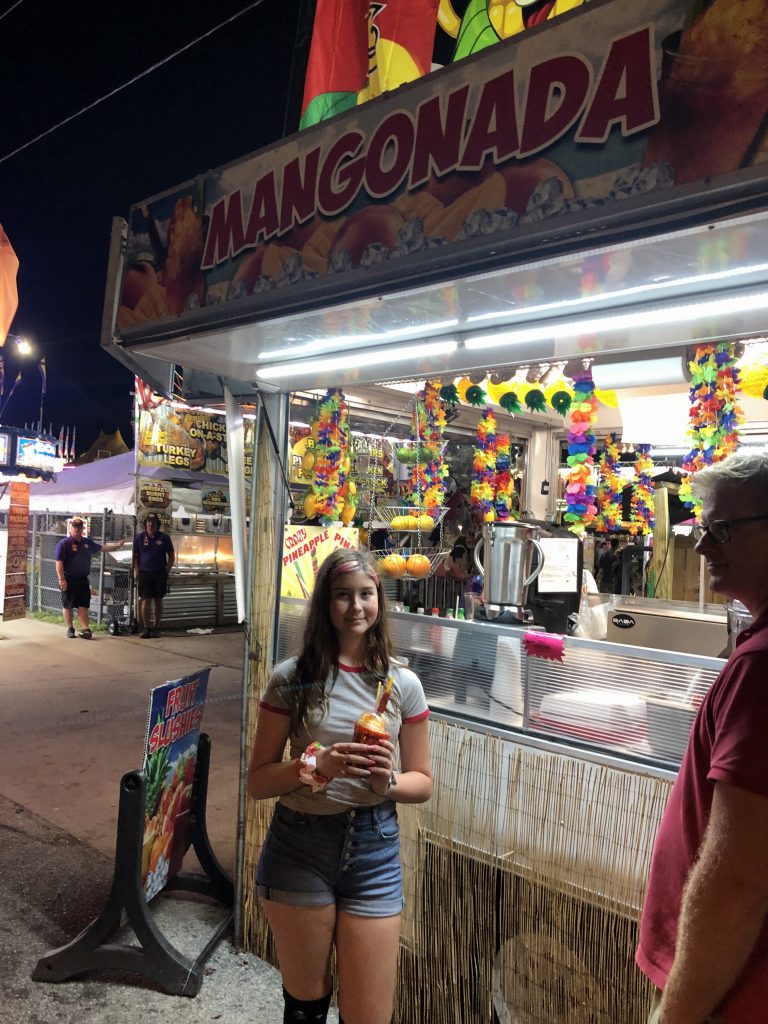 Hawaiian Ice
Just around the corner from Piggy Palace BBQ near gate 10, we found the nicest guy serving up some refreshing Hawaiian Ice. Make sure you try the Concord grape flavor. Originally from the Pennsylvania/New York area, he was telling us all about the concord grape farms in his home town. Pretty neat.
Then the rides…
The girls still love riding rides. They definitively have their favorites and have no fear of trying new ones. Jim and I will happily wait for them while they ride the rides. If you are going for the rides, I recommend getting the wrist bands. For us, it was a lot easier than the paper tickets since they were running from ride to ride.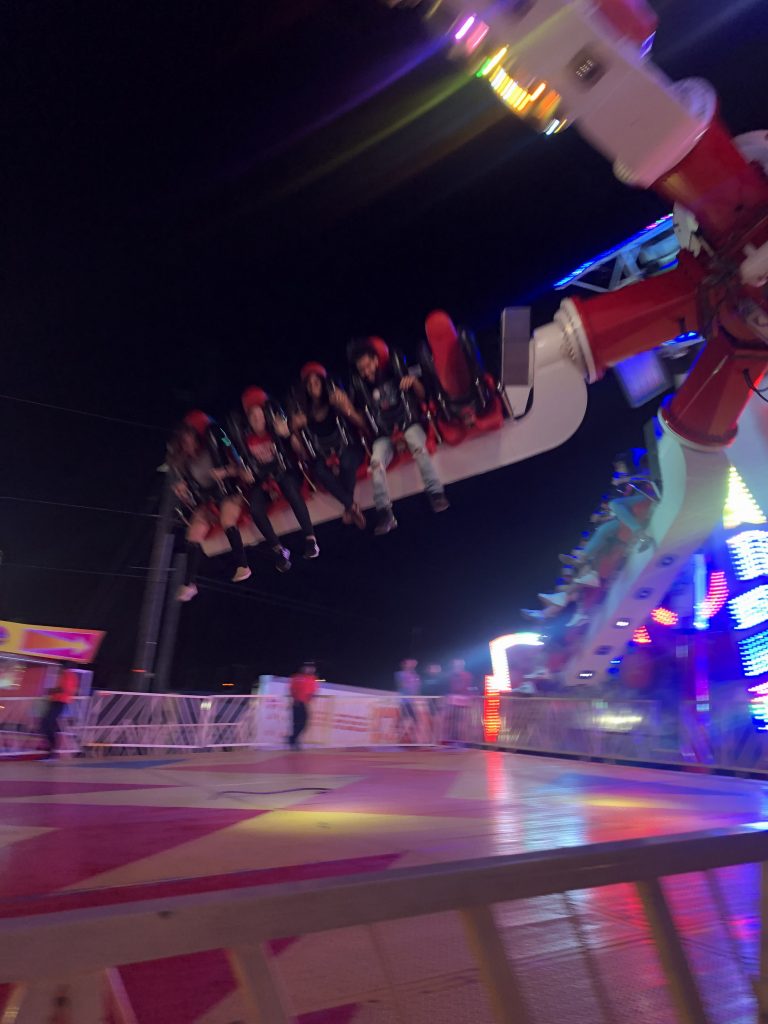 The shows…
While we did not go to the Main Stage show yesterday, we are planning on coming back on Friday to see Darci Lynne and friends: Fresh out of the box tour. The girls are super excited to see her. Apparently she is a ventriloquist and the winner of Season 12 of America's Got Talent.
I would like to see K9s in Flight. Their daily shows are free at 2:00pm and 4:00pm with 6:00pm on Saturdays and Sundays at the Festival grounds. These are previously homeless dogs who now are part of a "high flying" canine sports show. They are frisbee dogs, big air high jump and even dock-diving. You can find their shows next to the Badcock Media Center between gates 1 and 5.
Flippenout is another daily free show with North America's top trampoline artists. I haven't seen it yet, but I want to. You can see them perform daily Daily at 12:30 p.m., 3:30 p.m. & 5:30 p.m next to the Life Storage Carriage House near gate 1.
As always we had a great family night out at the Florida Strawberry Festival. I hope this post gives you an idea of what to expect and helps you find fun and good stuff at the festival. If you have a question or comment, I love to hear from you!
Oh yeah…I almost forgot…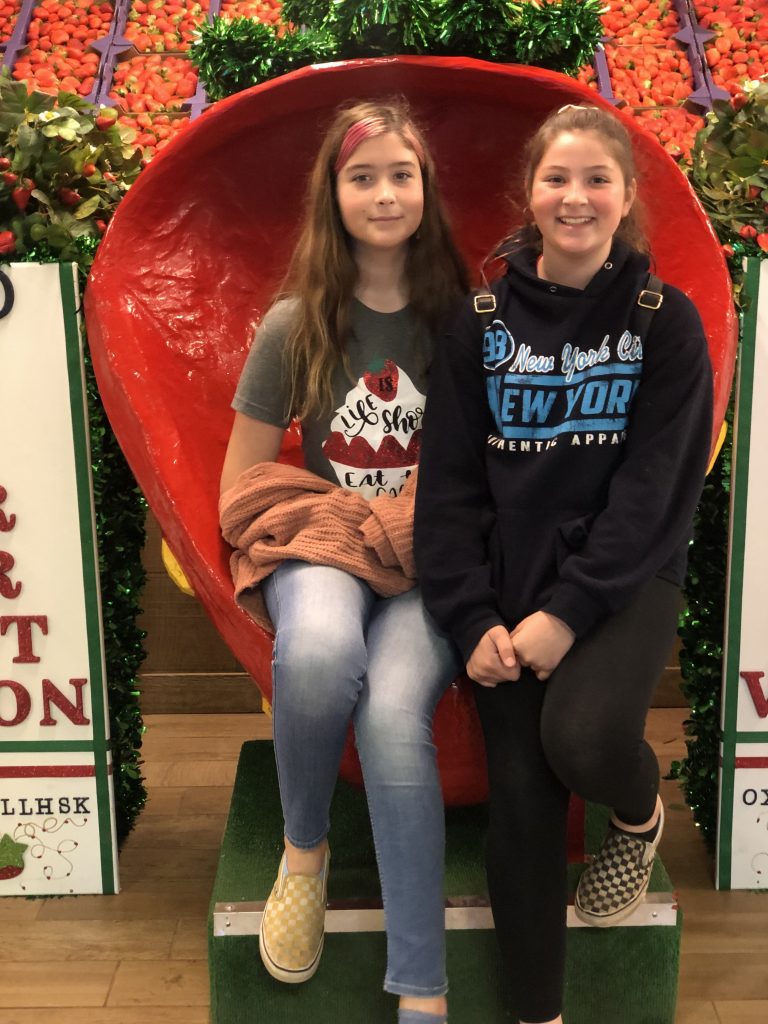 You have to stop by our iconic strawberry throne and get your picture taken at our booth! Peggy and the rest of the family work so hard to decorate that booth. They always do a fantastic job and it shows by consistently winning the coveted Blue Ribbon. Congrats!