Figuring out what to plant in your garden can be a daunting task. Will it survive the hot Florida summer? Will it come back next year? Will it flower throughout the year? These are some of the questions I hear from customers looking through our greenhouse for the perfect plants for their Florida yards. If you are looking for hardy, flowering bushes, keep reading. This blog post will explain why Knockout roses, Bouganvilleas and Gardenias are perfect perennial flowers for your flower garden.
Three hardy perennial flowers: Knockout Roses, Bouganvillea, and Gardenia
If you are the type of person that likes to "plant it and forget it", then these three perennial flowers are perfect for you. We'll start with Knockout Roses.
Knockout Roses
If you've been to our market, then you may have noticed there are two islands in our parking lot. A couple of years ago, we tried adding some greenery to the parking lot but were not very successful. The plants on one island did not flourish as I would have hoped. However, the other island, without much care was thriving. To my surprise the thriving island was planted with Knockout Roses and Drift Roses.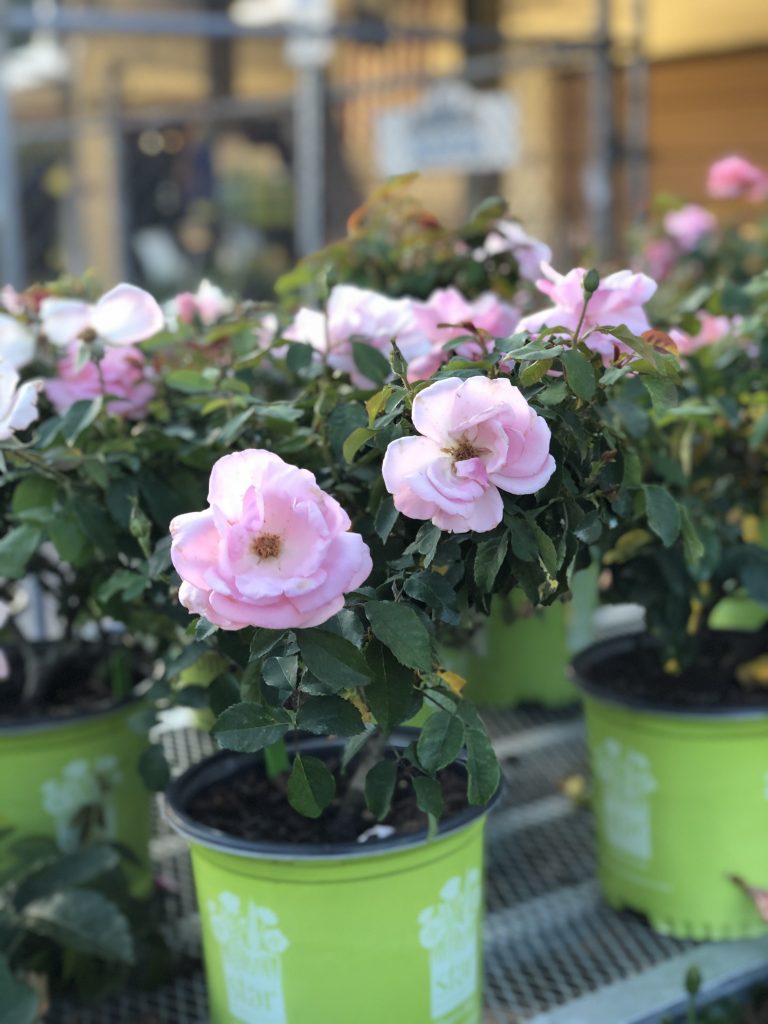 I've always been fascinated by roses. I can't really say they are my most favorite, but they are definitively up there. In Florida, Knockout Roses will bloom throughout the year. They are drought tolerant and take full sun (double yay!!!).
So last summer we decided to pull out all the plants we had previously planted without much success, and added more Knockout Roses and Drift Roses. And this time, we babied them a little bit the first couple of months or so. We made sure to water them more consistently until they were well established. Remember this was in the heat of summer. To fertilize them, we used Bayer Advanced All in One Rose and Flower Care Granules as directed. The results were amazing. We had and still have lots of healthy plants with beautiful roses and very little care. Let's face it, right now we are busy making strawberry shortcakes! For more information on how to care for knockout roses, please visit UFIFAS.
Bougainvillea
Now, this plant is a showstopper. Bougainvilleas can be found throughout Florida in gardens, in hanging baskets, in pots, you name it, this is a great plant. You will need a location with full sun and make sure not to overwater it. The fact that it likes full sun and drier conditions makes it a perfect Florida plant.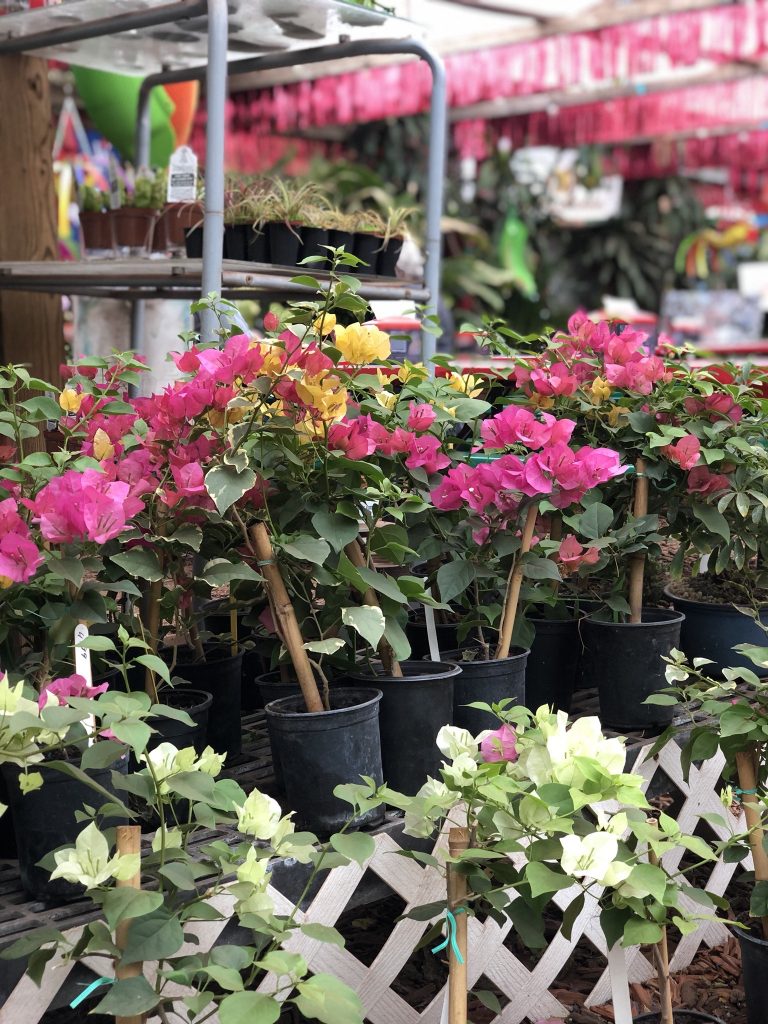 Bougainvilleas are available in a variety of bright colors: pink, soft pink, yellow, purple, magenta and even white. You can also find it in a variegated combination which makes the plant even more interesting. Keep an eye on it because it is a vine type plant and it could quickly take over an area. It does have thorns, so be careful when trimming. It is a warmer climate plant, so it will need to be protected when temperatures drop. For more information on Bougainvilleas, please visit UFIFAS.
You may have seen them at our market in the front parking lot area in very large pots. If the temperatures drop too low, they do take a hit because we can't physically bring them inside. However, after some trimming they come back every year with their beautiful and colorful blooms.
Gardenia
Gardenias to me represent Old Southern Charm, akin to Magnolia flowers, smaller but just as beautiful. They do have a heavenly scent which can be noticed as soon as you walk by. These evergreen ornamental bushes need full sun but can handle partial shade. They can be pruned but only after flower production has stopped and before October. Make sure to plant them where they have air flow to prevent humidity issues which can lead to pest problems later on.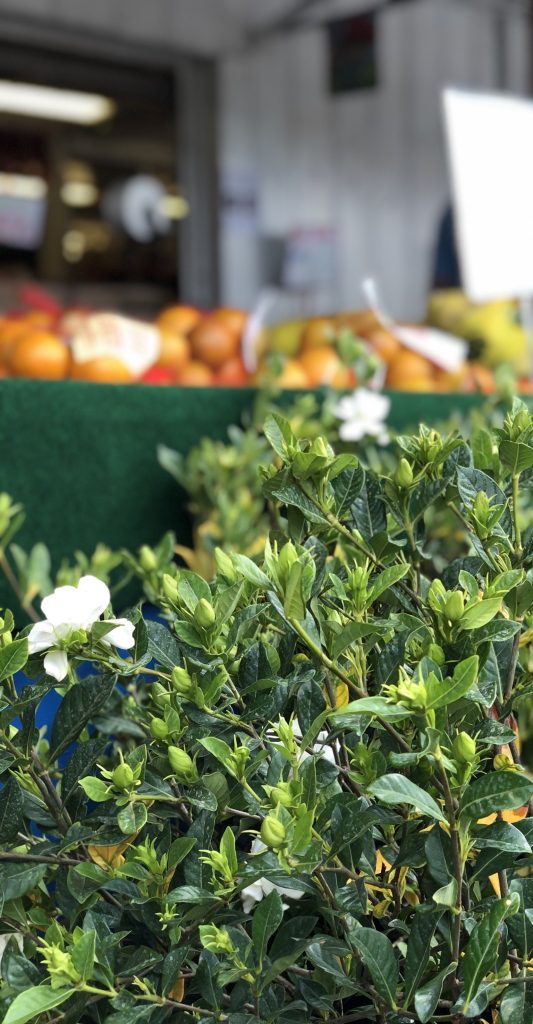 Gardenias will need to be fertilized two to three times a year. They also will need to be watered regularly. For more information on care, please visit UFIFAS.
Grandma Parke has Gardenias planted around her pool area and I think I might do the same to our pool area this summer. I really do enjoy the greenery as well as the sweet scent of Gardenias. Stay tuned for an update.