Plant City Florida is well known as the Winter Strawberry Capital of the World.  What most people don't know is that most local farmers also grow "Strawberry Onions".  You may ask, What is a Strawberry Onion?  Do they taste like strawberries?   A Strawberry Onion is a Savannah Hybrid Sweet Onion which is grown on the perimeter of  the strawberry fields.  Sadly, they do not taste like strawberries, but they are sweet.
Strawberry Onions are available from February to April.  It's funny to hear customers describing our Strawberry Onions to their friends or to other customers.  I've often heard them say "These strawberry onions are as sweet as an apple".  Last year we decided to start shipping our strawberry onions to the Northeast US via UPS.  So far, they've made it all the way to Maine, Ohio and Michigan.  The Strawberry Onions were such a hit last year, that we have already doubled last years shipments.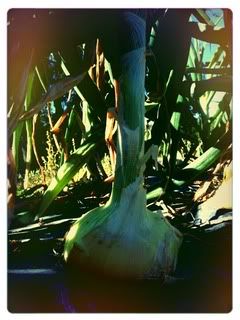 At the market, we often joke that the Strawberry Onions are planted on the edges to "keep the elephants away".  At home, we use Strawberry Onions almost exclusively when they are in season mostly because they are so sweet, but I prefer them because they won't make me cry!  You can read this earlier post with our favorite way to enjoy them.  Have you ever tried our Strawberry Onions?  How do you enjoy them?