Do you Yelp?  Yelp is an online community where customers can leave reviews of their experiences at almost any business.  Whether you are looking for a new place to eat in your town, or you are visiting a new town, Yelp has tons of helpful reviews to stir you in the right direction.  We were invited by Yelp Tampa Bay to their Yelptucky Derby event on Friday April 26th at the Winthrop Barn Theatre in Riverview.  Amy and Chef Gary, owners of Wimauma in Tampa, hosted the event.
This was our second visit to the Winthrop Barn.  In early April, Amy invited us to Chef Gary's French Country Dinner at the Winthrop Barn.  The dinner consisted of four courses: fresh green salad with a poached egg, Pork sausage with wilted spinach, grits and feta cheese, a second main course of red wine braised duck leg with lentil Brussels sprouts, apples and L'Orange sauce and a pickled peach clafoutis with basil Chantilly.
Every dish was perfectly executed.  Just amazing.  The braised duck leg with L'Orange sauce and the basil Chantilly were my favorite.  I will never forget either dish.  I almost licked the sauce off the plate with my finger.  That Basil Chantilly, so delicately sweetened, is what I would imagine a cloud would taste like.  They are hosting another theme dinner at the Winthrop Barn this Wednesday, May 1st at 6:30pm.  Here's a link for more information.  If you are available, you should really check them out.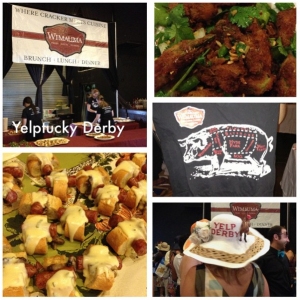 Along with Chef Gary's offerings, other local restaurants were sampling their food: Pelagia Trattatoria, Hula Bay, Eats, Fred's Market and the corner store.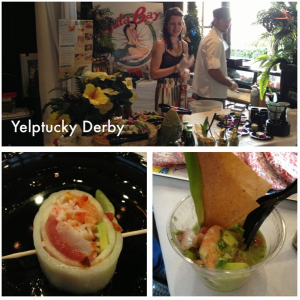 Hula Bay had some amazing ceviche and my favorite sushi roll made with cucumber instead of rice.  Fred's Market was sampling their grits with salmon and field green salad.  I didn't get a chance to try the dish, but everyone was raving about it.
And you know what other people were raving about???? Our Strawberry Cookies!!!! Most people at the event had never heard of our famous cookies.  I almost felt like the cookie fairy.  These people would take one bite and immediately smile.  They couldn't believe how fresh they tasted.  By the end of the night, people were coming back to our booth to get some cookies to go.  Mission accomplished!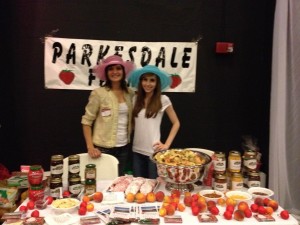 If you are still on the fence about our strawberry cookies, you better hurry.  We only have the cookies seasonally and we'll probably have them for another week or so.
Have you used yelp before? 
Have you had our cookies?