One of my favorite dishes to order while visiting family in Puerto Rico is "Chillo al mojo" or Red Snapper in a tomato sauce with onions and olives.  If you are wondering what "al mojo" means, it is simply a shortened version of "mojado" which means wet.  There are many versions of this sauce, but the tomato based one is the most common.
This is one dish I've been eating ever since I was a little girl.  If you order this dish in the island, expect to get the whole fish.  I mean head and tail.  🙂  To be honest, I love this dish because of the olives.  To me, the olives makes this dish.  Like most sauces, the longer you cook it the better it will taste.  Plan on about 20-30 minutes for the sauce to simmer.  You'll be glad you did.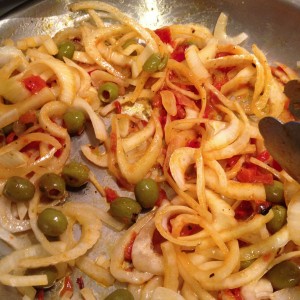 "Al Mojo" Sauce
Ingredients:
1 can chopped tomatoes
1 medium white onion, sliced
2-3 cloves of garlic, minced
lots of olives 🙂
1 tbsp capers
1 can chopped tomatoes
1 tbsp vinegar (I prefer apple cider)
2 bay leaves
salt and pepper to taste
Olive oil
water (use to thin out sauce if too thick)
Recipe adapted from Puerto Rican Cookery by Carmen Aboy Valldejuli.
Add olive oil to a warm saute pan on medium heat.  Saute onions till clear, then add garlic, olives, chopped tomatoes, tomato sauce, capers, vinegar and bay leaves.  Season with salt and pepper to taste.  If the sauce gets too thick, or you'd like more liquid, add a little bit of water.  Then saute on low heat for about 20 minutes.  Serve sauce on top of grilled fish or chicken.