February 28th marked the beginning of the 2013 Florida Strawberry Festival.  The Florida Strawberry Festival will run for ten days through March 10th.  Parkesdale Farms has been a part of the Florida Strawberry Festival since the 60s.  According to Peggy Parke, this year marks the 40th Anniversary of Parkesdale Farms selling our wonderful berries at the Florida Strawberry Festival.
This year's theme for the Florida Strawberry Festival is "Our Masterpiece of Fun".  To keep with the theme, Bobby and Peggy Parke added these "Masterpieces" to their booth.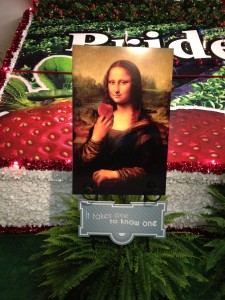 Jimmy and I had so much fun looking up for great pictures to add a touch of our own masterpiece: Parkesdale berries.  I can't take credit for the Mona Lisa because that was Bobby's idea.  And the Norman Rockwell painting was Jimmy's.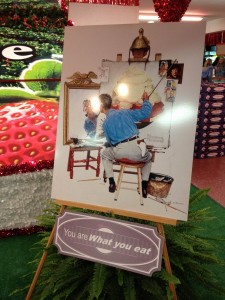 Colleen's booth at the festival is always full of beautiful flowering plants in bloom as well as her famous strawberry baskets filled with big red berries.
In her booth, we have a quilt made by one of our long time customers.  She made it for Cheryl out of Parkesdale Market t-shirts.  It's super cute and comfy.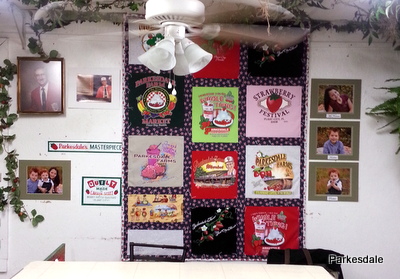 As part of the 2013 Florida Strawberry Festival celebrations, headline entertainers include Chubby Checker, Foreigner, Justin Moore, Alan Jackson, Martina McBride,  Trace Adkins, Blake Shelton and many more.  There are two concerts daily at 3:30 pm and 7:30 pm.  Additional tickets are needed for these concerts; however, there are free seats available on a first come, first served basis.
We were lucky enough to be invited by some friends last night to see Foreigner.  It was incredible to see how much energy this band had on stage.  So glad we went!  In addition to the great music entertainment, the food at the fair is amazing.  After going there for a few years now, I definitively have my favorites.
The best lemonade and elephant ears can be found right outside our booth by gate 9.  These funnel cakes are fluffy, crispy and perfectly sweet.  The lemonade is freshly squeezed made with real lemons.
Another favorite is the Fiske Fries with the malt vinegar.  And right next to them, you can find the best deep fried veggies.  Inside the Expo Hall, I always stop by Alessi Bakeries' booth to get a Napoleon.  Gotta have one.  You also have to get one of their deviled crabs.  Yum.  Another must have is the kettle corn.
The Midway is always fun.  As a mom of two little girls, I appreciate that there are two areas for small children.  The small children area on the East side of the Florida Strawberry Festival is larger than the area in the Midway.  We mostly stay on the East side area because the girls really like the "fun houses" and the bumper boats.
Another fun part of the Florida Strawberry Festival is the craft vendors.  Every year, we stop by a few of my favorites.  Right across from Colleen's Parkesdale Greenhouses booth is Meme and Me.  This is the cutest booth for little girls.  This booth is filled with tutus, hair bows, butterfly wings and everything a little girl could wish for.  My favorite vendor is this little booth that looks like a gypsy store in the West Bleachers Exhibit.  They have really cute tops and dresses for special occasions.
What's your favorite part of the Florida Strawberry Festival?
Have you ever been to the Florida Strawberry Festival?
Does your town have a special festival?