I hope everyone had a great Memorial Day Weekend!  We headed to Orlando to visit Universal Studios and Islands of Adventure for the first time with the girls!  We were trying to figure out the last time we had been there.  It was so long ago, I think I owned this phone: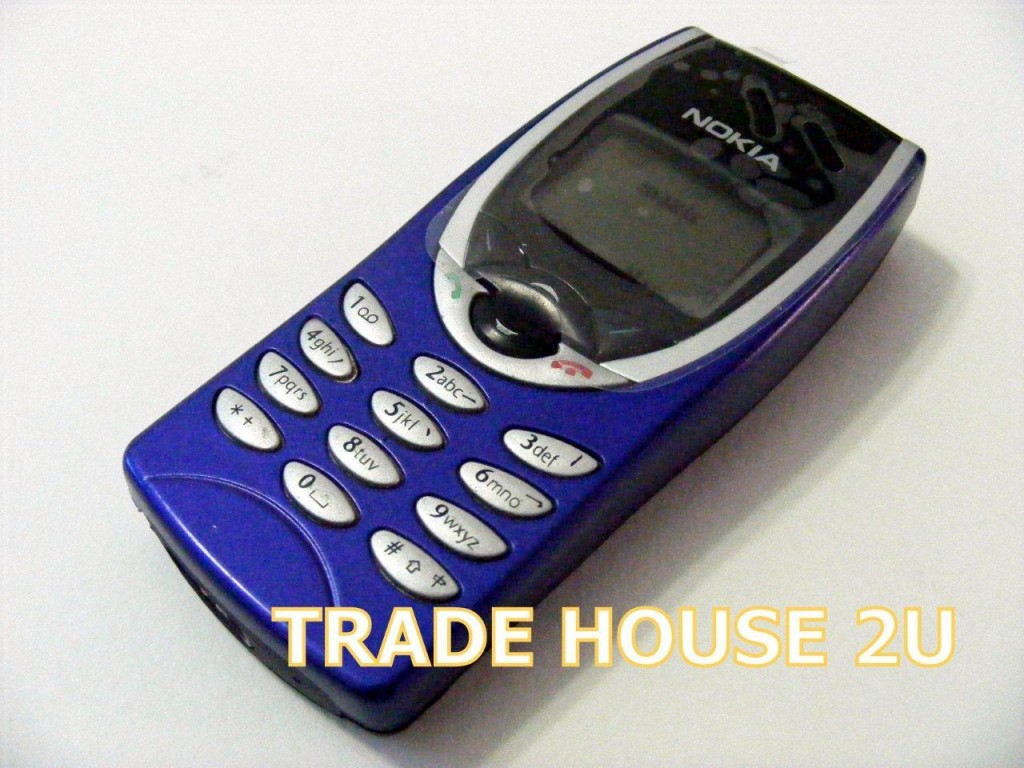 Funny story about that phone.  While we were on the E.T. ride, the phone slid out of my pant pocket and I lost it.  I called the next day to report it lost and they found it!  The employees walk the rides every night and pick up tons of lost items.  It all gets catalogued and if you contact them, they'll ship it to you at no charge.
Loews Royal Pacific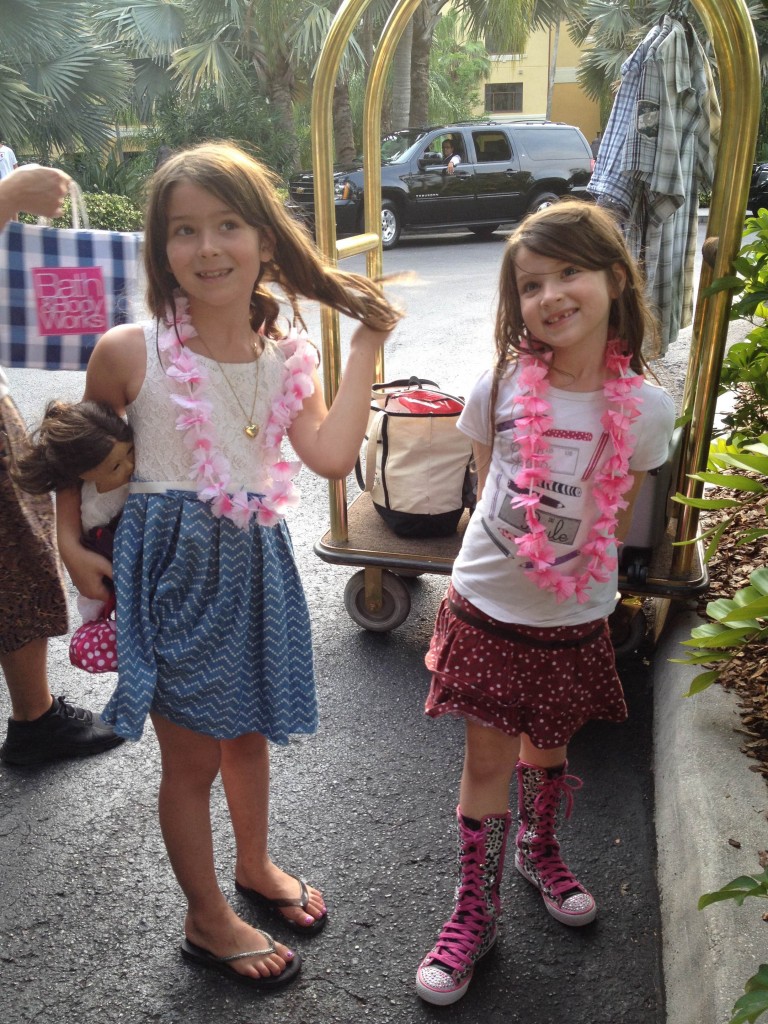 So, now that we were going with the girls, we decided to stay at the Loews Royal Pacific Resort, or as I kept calling it, the Royal Poinciana.  Don't make that mistake. Once we arrived at the hotel, we were greeted with leis.  So very cute.  We arrived on Saturday night, and headed straight for the pool.  They were playing Kung Fu Panda 2.  The girls kept going back and forth between the pool and the movie.  I had to call it a night, otherwise I would have fallen asleep on the chaise lounge.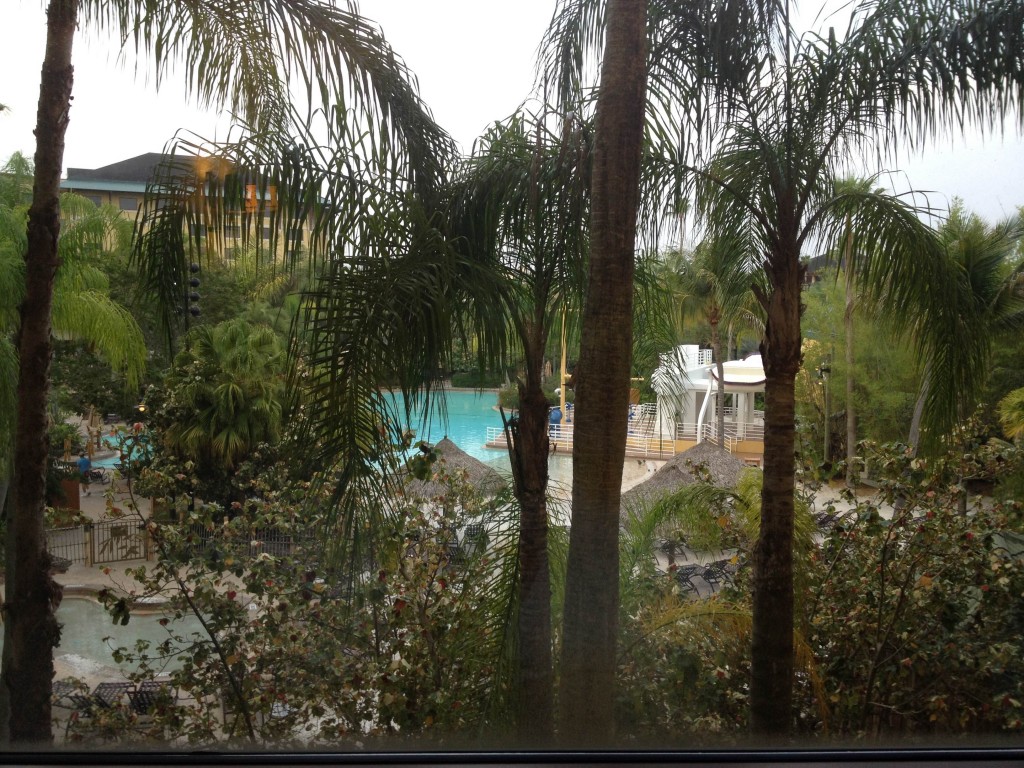 The pool was definitively very kid friendly with a "boat area" full of water guns and water splashing everywhere.  There was also a zero entry area and a separate kiddie pool.  During the day, there was a dj getting people to dance and play games with hula hoops.  Here's a better shot of the "boat area".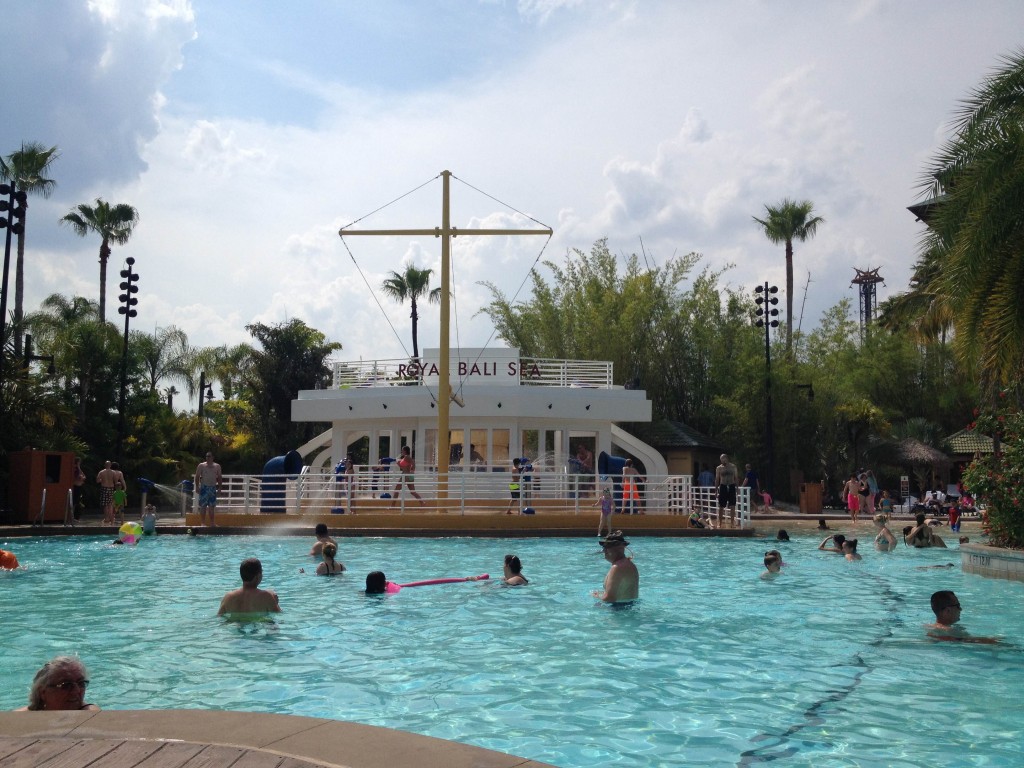 One thing that surprised me was that even though the hotel was full, it never felt like we were bumping into people.  Even in the pool area, it was never full to capacity.  I was skeptical about going away for Memorial Day weekend because I was afraid wherever we ended it up it was going to be packed.  However, that was not the case here.
Emeril's Tchoup Tchop

The hotel has three main restaurants inside: Islands Dining Room, Emeril's Tchoup Tchop and the Orchid Lounge and Sushi Bar.  While we were there, we decided to have our "Wedding Anniversary" dinner.  This year, we celebrate 10 years of being married, so we chose Emeril's Tchoup Tchop.  We shared the Chopped Salad and the Korean "bulgogi" BBQ.  Both delightful.  Jim ordered the skirt steak and I ordered the Snapper.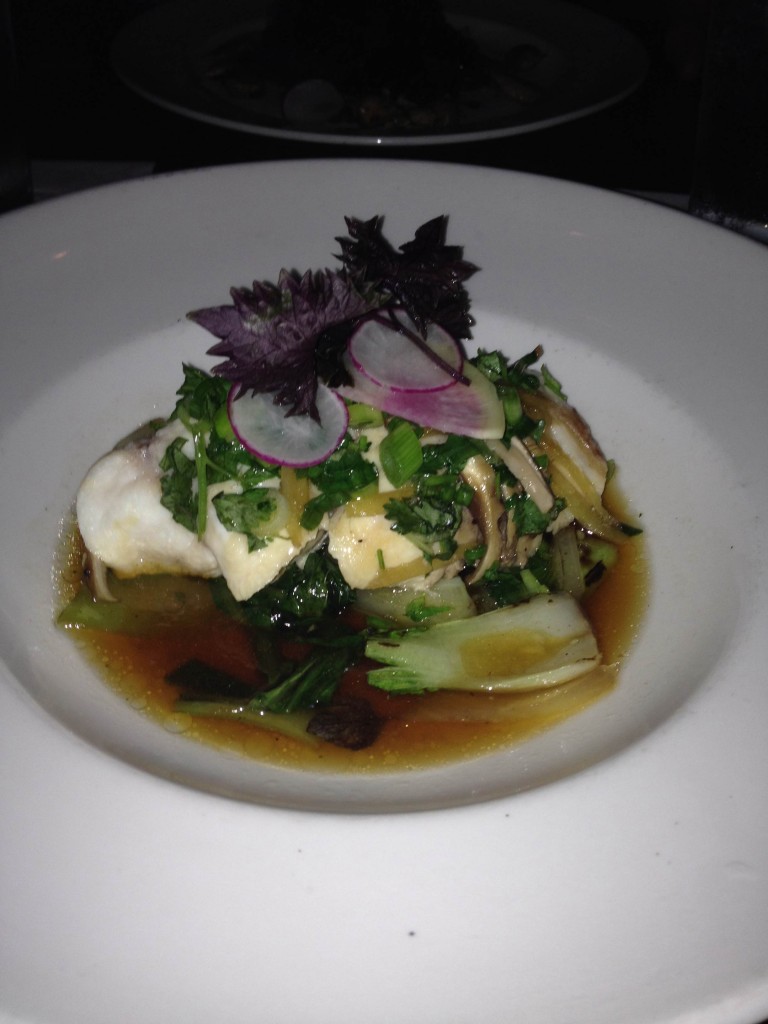 I grew up eating Snapper every chance I had while living in Puerto Rico.  And while this dish is nothing like I've had before, I will forever remember that deliciously sweet and salty broth.  Words fail me.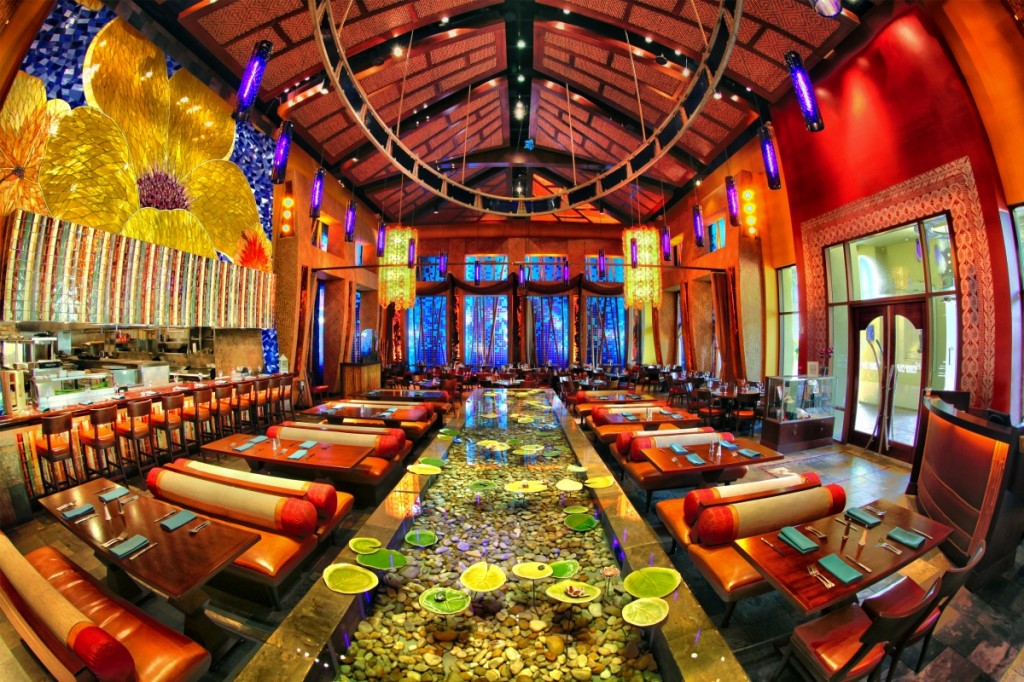 The restaurant itself is quite beautiful.  There is a water feature sort of like the one in Batman begins where the models go "swimming" and Bruce Wayne buys the hotel.  If you decide to go to Emeril's restaurant, please make a reservation.  We saw so many people being turned away because they didn't have one.  To make a reservation, they ask you to use Open Table.  I'm sure you can probably call and make one too.  While making the reservation under special requests, I told them about our anniversary and our server treated us to this delicious surprise: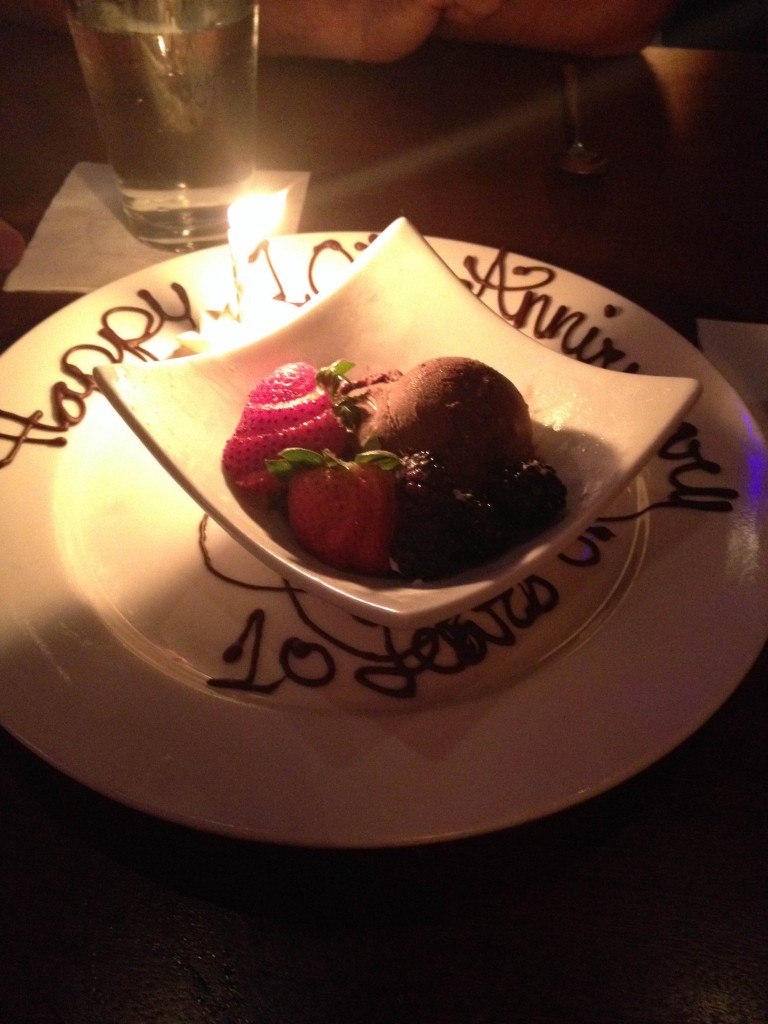 Tips
If you decide to stay at the Loews Royal Pacific Hotel, here are some tips:
Make your reservation online through Universal Studios so you can get your Xpress pass along with your park admission.  Trust me, you want to get an Xpress Pass.  For example, the line at Despicable Me had a waiting time of 75 minutes.  We used our Xpress pass and got in the ride in less than 15 minutes.
When you check in, ask if you can stay in Tower 3.  It seemed like we were always heading that way to get to the water taxi.  The gym, arcade and kids' club is also in Tower 3.
If the water taxis are shut down because of rain, it happened to us, you can go to the Hard Rock and ask a valet attendant for a ride back to your hotel.  Yay!