Do you like sweet oranges?  Do you prefer them to drip with juice? Yes, yes.  Then let me introduce you to Honeybell Oranges.  These oranges are a mix of tangerines and pomelos making them the sweetest, juiciest oranges around.  My best advice is eat them over the sink because you'll have orange juice dripping down your arms.  I'm not kidding.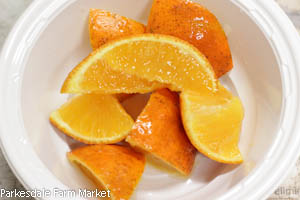 Honeybell Oranges are also known as Minneola Tangelos.  They are about the size of an adult fist and have a "stem neck" giving the fruit it's distinctive bell shape.  Their skin is fairly thin making it a great orange to peel on the go.  Honeybell Orange season ranges from December to February, but they hit their peak in January.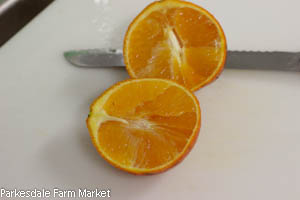 At our market, we package our Honeybell Oranges in 5 pound bags.  I suggest you buy two bags, keep them in the refrigerator because chances are by the time you come back to our market looking for more they'll be gone.  I've kept them in my fridge for about a month.  They might get a bit "ugly" on the outside, but they'll be just fine inside.
If you can't make it to our market, you can still enjoy these at home by ordering from our gift fruit department.  We have a few different packages with Honeybells.  If you like to get a mixed package, you can try the Parkesdale Sampler with Honeybell oranges, Ruby Red Grapefruits and seasonal tangerines for $30.95 (plus $10.95 shipping).
If you prefer just the Honeybells, then our packages start at $37.95 (plus $10.95 shipping) for a 1/4 bushel.  You'll not be disappointed.  But better hurry, because they'll be gone before you know it!