I am happy to do a guest post for Xi while she is on vacation with her family. I've known Xi for about a year now and she is such a sweetheart. I saw her recently when my husband and I made a trip out to Parkesdale. One day, I would love to go for a run with her!
Is there a food that you make often? Do you make it because it's easy or because you enjoy it? You know how it is…. You have a busy day, you come home from work, and the last thing you want to do is spend an hour or more in the kitchen making dinner. 
One of my favorite foods to make for dinner is fish. I love tilapia and buy quite a bit of it and keep it frozen. Depending on the time of year, the filets may be big or small. When they are bigger, I actually cut them in half so there is enough for two servings. And there are so many options for cooking fish and so many sides that you can make with it. I am very fortunate to like many vegetables. The more the colorful they are, the more I like them!
Today, I'd like to share with you my very simple recipe for a quick weeknight dinner. And even better, it's good for you!
Broiled Tilapia with Summer Squash
Author:
Prep time:
Cook time:
Total time:
Ingredients
1 tilapia filet
1 medium size summer squash, sliced
Olive oil
Basil
Baby spinach
Tomato – quartered
Red onion – small slices
Red wine vinegar
Olive oil
Pinch of sugar
Instructions
Place tilapia filet on a small foil tray and surround with slices of squash. Drizzle olive oil on both the fish and squash. Sprinkle with basil. Broil on low 12-15 minutes (or until squash just starts to brown).
In a medium bowl, mix all salad ingredients and toss with red wine vinegar and olive oil. Add a pinch of sugar. I like my salad on the tart side, so I use quite a bit of red wine vinegar. Season with fresh ground pepper.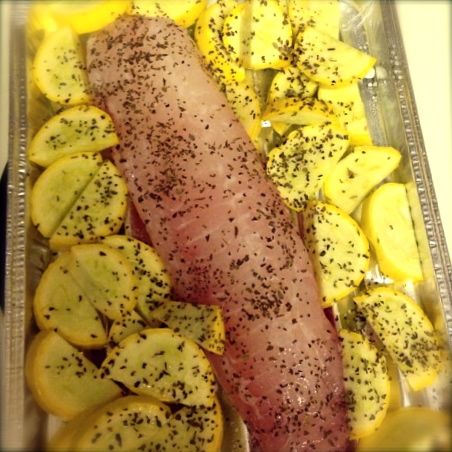 This is such a light meal, yet it is very filling. It's the perfect meal if you are following a healthy lifestyle, like I am. I have lost 25 pounds on Weight Watchers. For those counting at home, this entire meal is 6 points.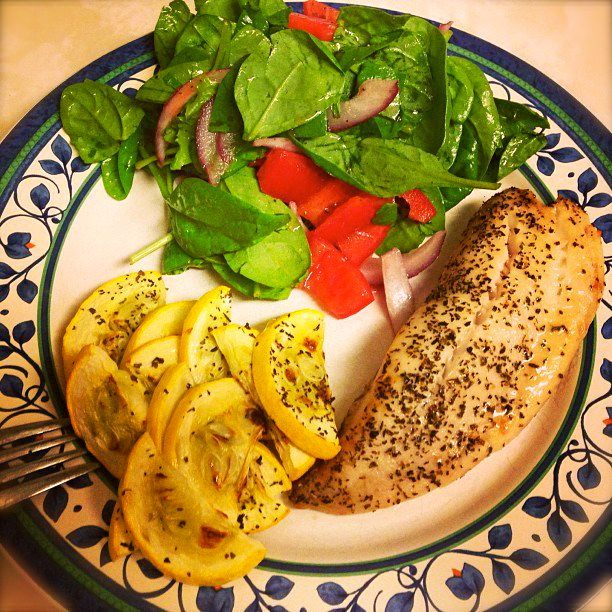 Aren't the colors on the plate wonderful? This meal was so delicious and easy to make!
What is your favorite weeknight meal to make? What is your favorite vegetable?
http://thiscrazylifeofmine.com
http://www.facebook.com/thiscrazylifeofmine
Twitter: @AuntNanci
Instagram: @auntnanci