by Xiomara Meeks – September 22nd marks the first day of Fall and everywhere you go now has a "pumpkin" fill in the blank item. Well, we are not too far behind that trend with our fall flavor milkshakes. 😉 But today, I'd like to share all of the fall flavors we offer at the market. Or if you are feeling up to it, I have some great fall recipes to make at home!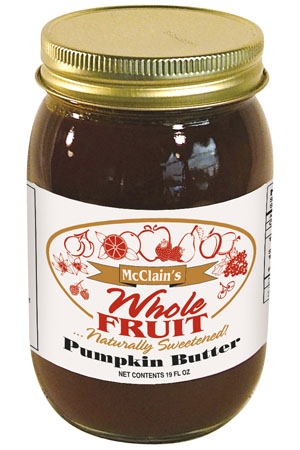 For a while now, one of my must have jarred items at home is our McClain's Whole Fruit Naturally Sweetened Pumpkin Butter. It really tastes just like pumpkin pie out of the jar. I enjoy it with toast, of course, but it is also fun mixed in yogurt, cream cheese for a bagel, or with your morning bowl of oatmeal!
Did you know we have sweet potato butter? Our Spring Valley Farms Old Fashioned Sweet Potato Butter is a customer favorite. Best thing about this butter is it's five ingredient list (Sweet potato puree, cane sugar, citric acid, spice) and it's tiny sweet potato chunks.
And who can forget the original butter. Apple butter has been around since the middle ages. We offer our apple butter in two choices: sweetened with sugar or naturally sweetened with grape juice concentrate. Both are amazing options.
More uses for pumpkin butter:
Mix it with cream for a pumpkin cream sauce and ravioli.
Add it to the middle of your batter when making pumpkin muffins.
Top your pancakes, waffles or french toast with it for a fall flavor breakfast.
Bake these Pumpkin Butter Oats Squares!
Bake McClain's Old Florida Gourmet Pumpkin Biscuits!
Pumpkin Biscuit
Author:
Ingredients
2 1/2 Cups Flour
1 TBS Baking Powder
1/2 TSP Salt
1/4 TSP Ground Ginger
1/2 Cup Butter, chilled and cut into slices
1 Jar McClain's Pumpkin Butter
Instructions
Preheat oven to 400 degrees. In large bowl mix all dry ingredients. Cut in butter with pastry cutter or fork. Mixture should look lumpy.
Mix in McClain's Pumpkin Butter
Do not overwork the dough, mound dough by large spoonfuls (about 2 TBS) onto greased cookie sheet.
Bake for 10-12 minutes or until golden brown.
Serve with honey and butter.
Do you like the everything pumpkin trend?
What's your favorite preserve/jam/marmalade/butter flavor ?