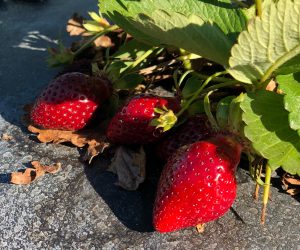 Every October the farm gets ready for the upcoming Strawberry Season. After a long, hot summer, the fields are prepped for our favorite crop: strawberries.
Our strawberry bare root plants are a short-day (winter months) plant variety adapted for west-central Florida growers. Growers should plan on watering daily for first 10-12 days. Other than the watering, when planting bare root plants you need to make sure not to "bury" the crown. It's the little "nodule" type thing holding the branches before the roots. This part has to stay above ground level in order for the plant to survive. Yes, the leaves will die out after planting. This allows the plant to grow the root system, which in turn allows the plant to grow new leaves.
Bare root plants are sold in bunches of 25 plants for $7.49. Get yours today before they are all gone! To reserve yours, give us a call at 813-752-0502.