Bare root Strawberry plants are finally here!  Now that the farm has started planting their fields, we have bare root Winter Star strawberry plants in bunches of 25 for $6.98.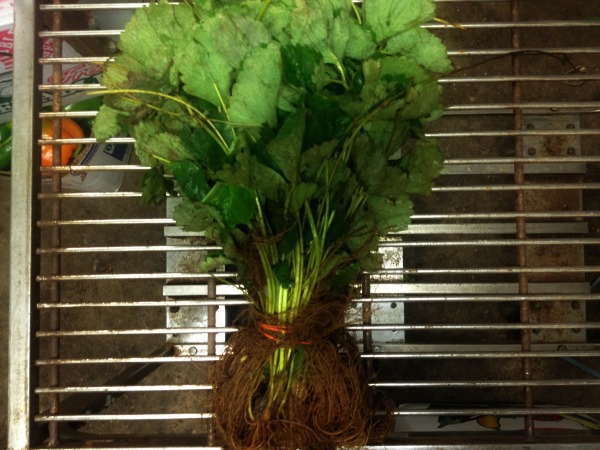 Here are some tips on how to plant your bare root strawberry plants:
Till the soil.
Fertilize.  The fertilizing can be done before or after making the beds.  Fertilizing before bedding is called "Broadcast Fertilizing".  The "Band" method is used after bedding.  The band is a furrow in the middle of the double bed approximately 4-5" deep.  We use 15 lbs. of fertilizer per 100' double bed, use this to help you determine the amount you will need.   Set the plant about 4" from the band.  Do not let the plant touch the fertilizer because the roots will burn.  We recommend an anlysis of 6-6-6 dry or 20-20-20 water soluble.
Make the beds.  The beds should be between 6-8" high and 24" wide for a double bed.
Apply the black plastic.  The plastic is used to help control weeds, keep the berry clean, and to make use of the fertilizer.  Another important function is to hold in heat and moisture on cold nights.
Start planting.  The plants should be set 12" apart in either direction.  A 2" slit is made in the plastic and the plant is set through the plastic.  Make sure not to bury the crown.

Most importantly DO NOT SET THE PLANTS TOO DEEP! This is the most common error made in planting.  Be sure the crown is 

above 

the ground.  If soil or mulch covers the crown it will die.
When you pick up the bare root plants, make sure to keep them refrigerated until ready to plant.  The plants may appear to lie down when first planted.  After the plants are set, it is vital that they be thoroughly watered.  Keep the leaves moist and the ground saturated for three to five days.  After 7-10 days the plants should be rooted, then water as needed.
For more information on planting bare root strawberry plants visit IFAS.