by Xiomara Meeks – I've been reading food blogger Deb Perelman's blog for about two years now.  Her recipes, commentary and photography have kept me coming back for more.  When she discussed her upcoming book, I was conflicted.  The tag line on her cookbook, the smitten kitchen, says "recipes and wisdom from an obsessive home cook". Will I be able to make her dishes at home?
The pictures of her meals look amazing.  I purchased her cookbook 8 months ago.  This is the first recipe I had the courage to cook.  I say courage because as tasty as her pictures look, I am no where near her level.  I mean, she makes her own gnocchi. Confession: I buy the pre-made kind.  Here's my adapted version of her Roasted Chicken with grapes and olives.
The recipe calls for 3 pounds of chicken parts with skin and bones.  I had defrosted boneless, skinless chicken breasts ready to go.  I've forgotten I had fresh rosemary in the patio, so I substituted dried oregano.  I keep forgetting to buy shallots, so I used a combination of garlic and purple onion.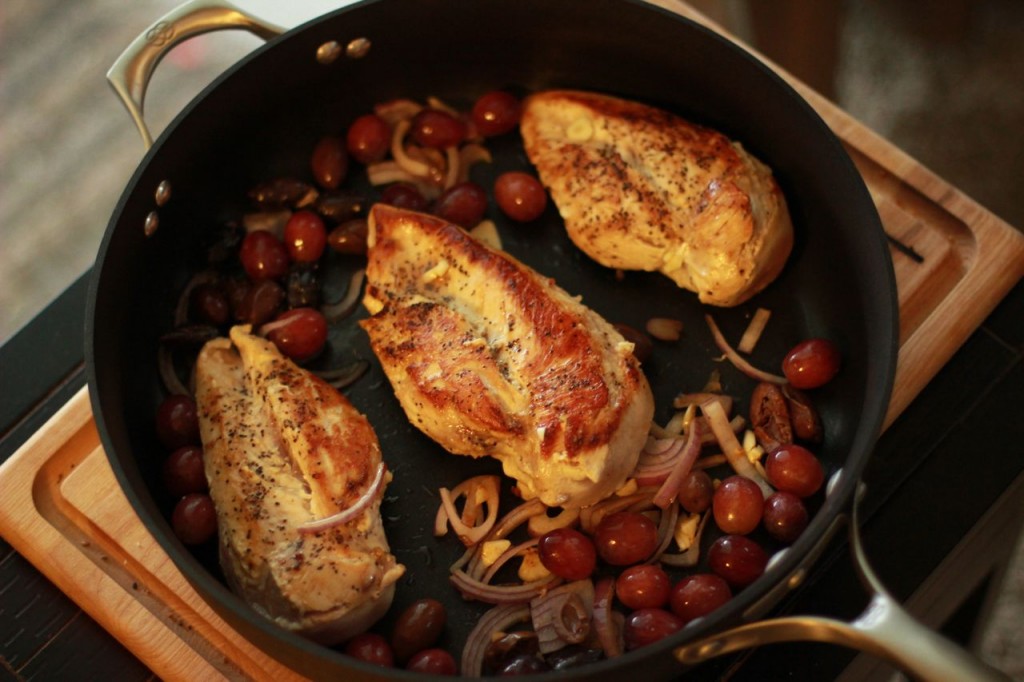 Roasted Chicken with Grapes and Olives
Author:
Prep time:
Cook time:
Total time:
Adapted from Deb Perelman's the smitten kitchen cookbook
Ingredients
3 chicken breasts, skinless, boneless
sea salt
ground black pepper
1 tbsp olive oil
1 cup seedless grapes
1 cup pitted Kalamata olives
1 garlic clove, thinly sliced
1/2 cup red onion, thinly sliced
1/2 cup dry white wine
1/2 cup chicken broth
1/2 tbsp dried oregano
Instructions
Preheat oven to 450F. Season chicken with salt and pepper.
Heat oil in an ovenproof 12-inch skillet. Brown the chicken on both sides (about 5 minutes).
Add grapes, olives, garlic and onion. Place the skillet in the oven for about 20 minutes.
Remove the chicken, grapes and olives from the skillet. Add chicken broth and wine to the pan. Bring the liquid to a boil and reduce by half, about 2-3 minutes.
Pour sauce over chicken and enjoy!
This recipe was enjoyed by everyone at home.  Yay!  It was awesome to have the extra time to work on homework while the chicken cooked in the oven.  Another plus was the cleanup and we had some leftover chicken for lunches the next day. I think I'll be using the oven more and more this season.
Do you still purchase cookbooks?
What's your go-to cookbook at home?
Who's your favorite food blogger?